APM. Simply the best
Over the last 40 years, APM has only ever manufactured and offered the best design solutions for advanced packaging machinery: the best in consulting and customization, the best in machine technology and the best in supply and customer service.
How can we be so sure that it's the best? Because we invented it.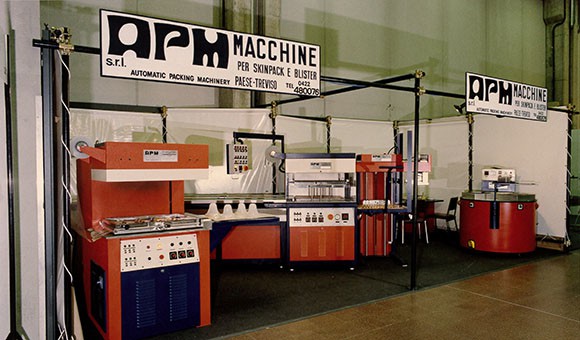 APM is an Italian packaging machinery manufacturer specialized in the design and production of packaging systems and machines, making equipment able to satisfy a whole range of production requirements since 1975.

Our history began thanks to the inspiration and courage of Giovanni, who started out with a small packaging company in the Italian province of Treviso. He began experimenting with paper and cardboard as well as studying new chemical components for plastics and transparent films, painstakingly building his first packaging machine in his "free time".



He sold dozens of models of this prototype to master glassmakers in Murano, who were won over by the possibility of finally being able to ship their pieces, protecting them from any knocks and bumps. Other big companies requiring packaging solutions soon followed suit.

Today, Giovanni's sons work alongside him. Thanks to their combined commitment, over recent years, the company has been able to focus more and more on customer satisfaction and making services extremely personalised. Despite being a relatively small company, APM is the undisputed leader in the niche sector of packaging machinery and materials, boasting internationally acclaimed brands among its customer base.